Bless 100,000 Needy Children
Every year, SEESHA celebrates Christmas season by gifting 100,000 new clothes to children from downtrodden communities, orphanages and disaster-hit regions.
Clothing is one of the most basic needs for mankind. When it comes to children, hailing from families where they cannot afford new clothes, we see more than just a basic physical need; we see a socio-emotional longing. For such children, their worn out, and sometimes torn clothes, embody them with a lack of confidence and drives them away from seizing opportunities that may bring them attention.
Every year, SEESHA seeks out 100,000 such children and presents them with a set of new clothes to help them face the world a little more confidently.
We invite you to join us in gifting the underprivileged children – the much needed warmth and love wrapped in new sets of Clothing, this joyous christmas season! With a small contribution of just $20 for a new set of clothes, you could have the privilege of bringing happiness and dignity to a needy child.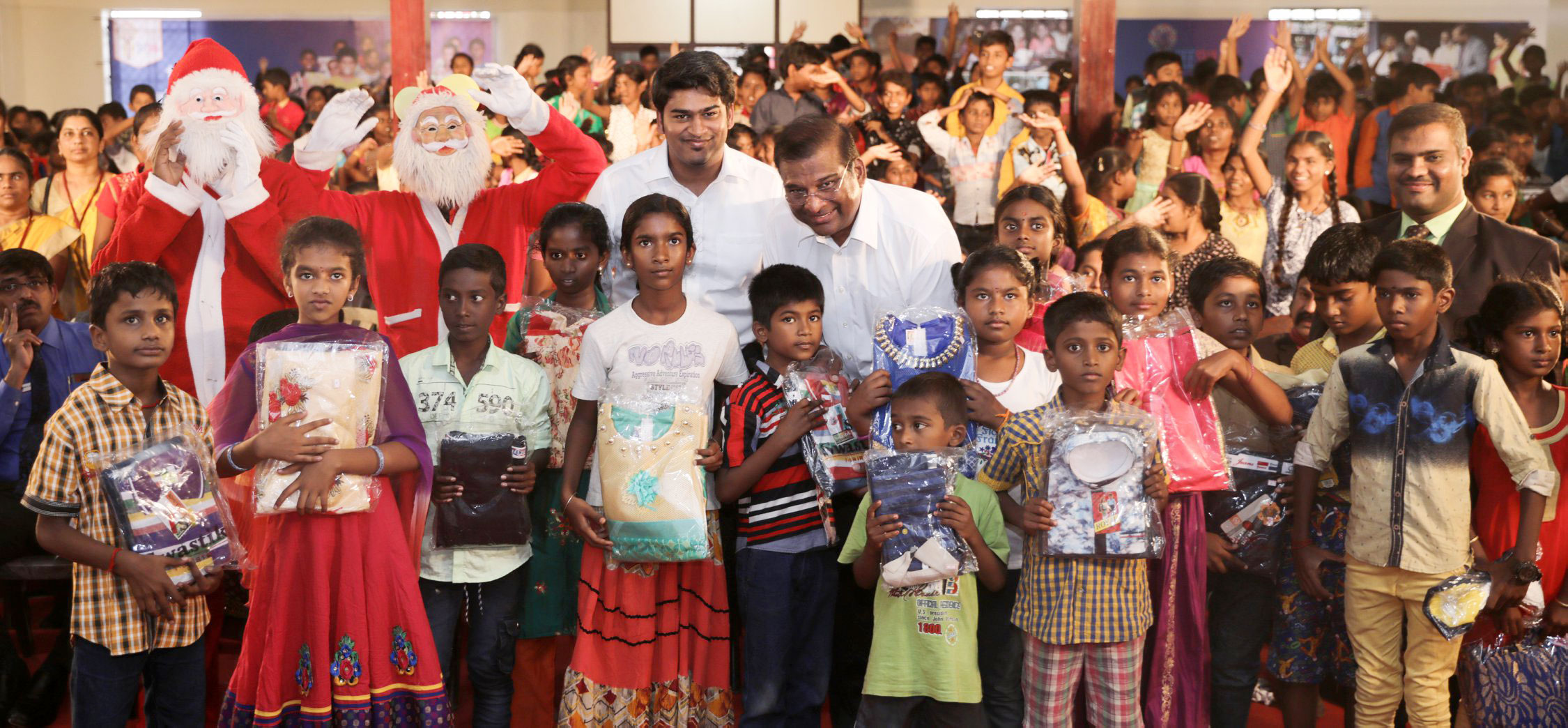 New Clothes Distribution Event 2019
SEESHA'S New clothes distribution inaugural event for 100,000 children was held at Coimbatore on December 2019. As a part of inaugural program, 1000 poor children participated in the event and received new clothes. Several other people from poor backgrounds were also benefitted. Success stories were shared by the beneficiaries. Children actively participated in the cultural programmes and showcased their talents. We are glad to have lit smiles and spread cheers around this christmas season in the lives of little children and the needy people making them feel loved and happy.
NEW CLOTHES FOR 100,000 CHILDREN : Children from downtrodden villages, tribal children, children living without parents and hailing from economically underprivileged children received new clothes..
ELDERLY PEOPLE : Elderly people staying at Old Age care home received new clothes.
EMPOWERING THE DIFFERENTLY ABLED : 3 differently abled people received retrofit two wheelers
LIVELIHOOD ASSISTANCE : Widows received commercial iron box to start business and run their families on their own. Women from very poor background who were trained in SEESHA tailoring centers at Chirala, Surandai, Madurai, Cuddalore, Chennai - received new commercial Sewing machines. These machines were sponsored by the ones who were previously benefited by this program who are currently employed as tailors.
Support us to bless 100,000 needy children in various parts of India with new clothes;
the cost of clothing per child is $6.
bless 10 needy children with new clothes for $60.
bless a child with good education and daily meals for $350 a year.
bless a poor widow with a sewing machine for $450 to help her build and sustain her family.
bless a physically challenged person with a Tri-wheeler motorcycle to move around for $1500 who otherwise would have only dreamt about moving around.
Your help of any amount will surely be a blessing in the lives of these precious people and put a smile on their face this Christmas season.